FREQUENTLY ASKED QUESTIONS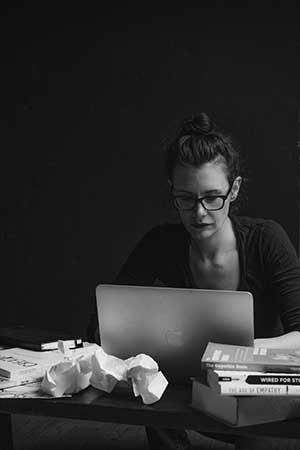 What experience level is this course geared toward?
This course is for beginners, intermediate AND advanced storytellers. The principles are the same at all levels, and they're deep--which means they can be learned and practiced in layers, forever. I've been writing theater, film, television, fiction and nonfiction for fifteen years, and I embody these principles in my own work in new and deeper ways constantly. Each story is unique, so each project is a new lesson and a new chance to practice. These story structure principles are multilayered, powerful, and as old as our species--and I've assembled them into a complete and workable methodology that revolutionizes the creative process of even the most experienced professionals.
I have an idea, but I've never written before. Will this be over my head?
Not at all! I grew up studying classical music, where you learn from the ground up-- first you learn how to hold the instrument, and then you learn scales, then simple exercises, then etudes, so by the time you get to the concertos you've got solid ground to stand on. (And the most accomplished virtuosos go back and work their scales all the time!) I believe in giving artists a complete way of working so that there are no gaps in your process. We start at the very beginning, and build everything step by step, so no previous experience is required.
Can I skip over the beginning, then? I've been writing professionally for years.
Nope! The way I teach the "basics" is deep. I've been writing professionally for years too, and the beginning steps are the ones I go back to every time--and they deepen every time I go back to them. Think of them less as "beginning" steps and more as the soil everything is planted in. There's always room to fertilize, enrich, and till that ground.
What do I need to start this course? An outline? A script?
You need an idea that won't leave you alone. A story-based project that you want to manifest. That's all. You don't have to have written one word. You don't even need to know a whole lot about your idea yet. You just need to have it.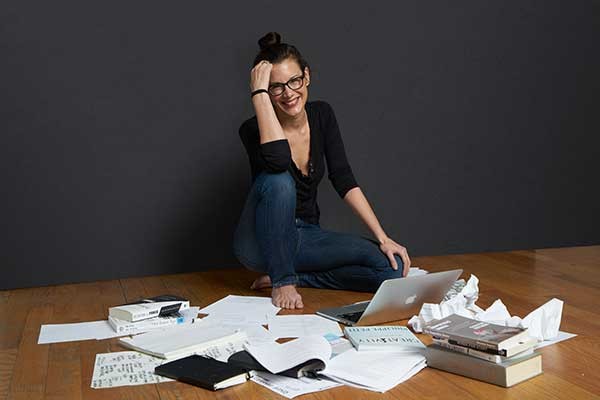 How many projects can I work on in this course?
This course is designed to guide you through the process of creating a single project at a time. Step by step. From beginning to end. But it's also designed for you to be able to use the course again and again--and once you buy it, you have lifetime access. So you can use this course over and over, as a roadmap for any script or book you ever want to write.
You said this course is for people who want to write a screenplay, a play, a TV pilot, a novel, a solo show, or a memoir. Those are all different mediums--how can one course apply to all of them?
Yup, those are all different mediums. But they share a common structure. And they're all grounded in one thing--character. My methodology teaches you to build story out of character-- a process that applies to every single one of those forms. And once we lay the foundations shared among all character-based forms, the course goes into the specificities and structural quirks of each. I'm a published and produced artist in every medium listed above, and I'm highly experienced in navigating both the commonalities between them and the unique challenges of each form--so I can speak to all of them.
14 modules--that's a lot. What if I fall off the program?
Life happens! And most creators have put down and picked up their projects many, many times. (Sometimes that downtime actually winds up marinating things and sparking incredible new discoveries). Once you buy the program, you have lifetime access, so if you fall off, just pick it back up again when you're ready. The work will be there for you.
I want to create my project, but I'm so busy. Will I really have time to do this course? How much time will it take?
In my private coaching practice, I work with people whose lives look totally different from each other. I have clients who are full-time professional writers with the freedom to chart their own course; I have clients who are executive producers on TV shows (that's a 60-hour a week gig) and writing their own scripts on the side; I have clients who are parents of young kids, or who are caretakers for their own parents. I have clients who work full-time office jobs and write in the mornings, and clients who are creative freelancers who work in four art forms all at once. My creative productivity methodologies are designed to create a consistent, reliable, productive creative habit for everyone who uses them--no matter what the structure of your life looks like. One of the first things we do in the course is walk through the realities of your own life and schedule to design a practice that works for you. Reliably and consistently. Whether you have three hours a week to spend on this, or thirty. If you're working less hours a week in the course, you'll move through it slower- and if you have the ability to devote a lot of time to it per week, you can crank out your project fast. But it's designed to work for everyone. No matter what.
I want to write my project, but I'm totally blocked and I have been forever. Since I'm so stuck, will signing up for this just be a waste?
No way. That is exactly what I'm here for. This course contains tools to unblock you right away--and concrete homework and assignments to keep you putting one foot in front of the other. You will never be left wondering what to do next again. And you'll have concrete, incredibly effective tools to move through resistance and conquer "writer's block" once and for all--so that your channel stays open and your new normal becomes radical creative productivity.